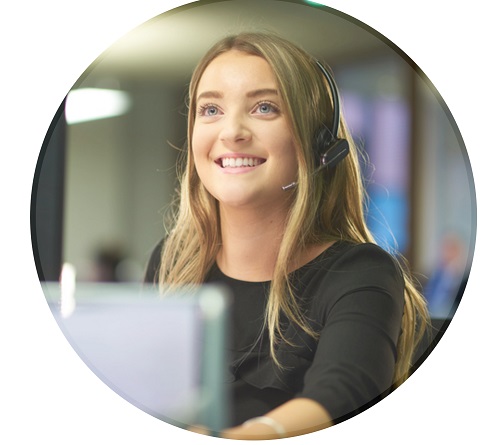 Work From Home
For over 30 years, the people behind RJ Media have been providing adult chat line operators with the opportunity to earn money through the provision of live entertainment services, which includes those of a sexual nature, as well as fantasy and support. Our operators are some of the best in the business, weaving words as wonderfully as they say them, and always leaving their loyal clientele wanting more. It's no wonder that we're the most established live entertainment business within the UK, backed by a reputation that is honest, transparent and always working with both the operator and client in mind.
We understand the trepidation that surrounds this industry, and the concerns that come with joining it. However, we feel that our business practices are what set us apart. We have a strict code of conduct concerning what can and can't be discussed with our clients, namely: drugs; incest; beastiality; rape; anything that involves those who are underage. We encourage our agents to divert the conversation if these topics arise, or hang up if they feel uncomfortable. As we say in the training phase, we'd never want our operators to feel that they are stuck in a situation that is giving them the creeps. With full and supportive training we help to boost your confidence and provide you with top tips for attracting clientele and making a good income. We have complete trust in our team and know that they will guide and support you, whenever you need them.
---
Our Mission
You may have stumbled across our website unsure as to what exactly it is that we do. You may have had some idea, and wanted to find out more. At RJ Media, we know that the services that we provide can have a big impact on the lives of our callers - meeting their sexual needs, and discussing their fantasies. There's nothing wrong with expressing inner desires! There's nothing wrong with sharing your woes with a friendly ear. By allowing callers to reveal their true selves, our operators provide a service that they can rely on to meet their needs, whatever they may be. We respect our operators for their adaptability and supportive nature, viewing them as true professionals.
Why You Should Choose Chat From Home?
As soon as you sign up, you will be assigned an account manager who is there to guide you through the entire process. They help you to set up your account, create an online profile and track your earnings through the easy to use online portal.
We provide all of our operators with extensive training to ensure that you work within company guidelines and know exactly what you can and can't say during your phone calls.
We have a superb customer support service who are there to help with any questions you have, offer guidance and advice, and help you to deal with any unexpected issues that occur. You're there for your clients, so we want to be there for you. (Opening hours are 10-6 mon to fri and 10-4 sat. )
Our lines are open 24/7/365, meaning that callers can, and do, ring at all hours of the day. This means you can work all hours of the day, too, should you wish - maximising your output, and revenue.
All of our agents work for themselves. You are self-employed, and therefore, we would never enforce shifts or make you work hours that you wouldn't want to. You create your own work schedule that fits around your personal schedule.
Total anonymity is guaranteed for both agent and client, protecting you in the unlikely event that the call turns awkward, and saving the client from ridicule or embarrassment. We will never disclose your personal details to any third party either.
Unlike most other UK providers, we pay you weekly, meaning there's no waiting around to receive earnings. Our rate of pay is among the highest within the industry, with pay increases after only 16 hours of logon time.
Because of our superb reputation across our full range of websites - and the fact that we charge some of the best rates out there - we receive thousands of calls every day, so there's really no limit to what an agent can earn for themselves.
"I've worked for a couple of adult entertainment chat lines, and without a shadow of a doubt, Chat From Home is by far the best. Right from the start they were helpful, answering all of my questions and talking me through the kinds of callers they get. They helped me to set my account up, trained me in the ways of wording and made me feel that I could do this, even though I was a little nervous at the start. I've never felt more supported in a job, and I can't thank them enough for taking me on. Strongly recommend."
Our Operators
We value the time and effort that our operators put into their role, and the support that they provide our clients with. It's because of their talent and skill set that our business is the success it is, and for that, we will always be grateful. To show our appreciation, our operators are not only some of the highest paid in the industry, but also benefit from full support and training for the job itself. We don't just throw our operators into the fire and expect them to heat things up. We offer advice and guidance on how to get the most value from a phone call, while still providing a high quality service. Our 24/7/365 operation means that our agents can make as much money as possible, because there are always callers waiting on the other end of the line. They're never waiting long however, and if you become one of your agents, neither will you.
We're regularly asked what makes a great adult chat line operator, so here are our answers:
Having fantastic communication skills is a must. Speaking clearly, not mumbling and taking the time to actually listen to responses and client needs is all very important.
You're friendly, bubbly and know how to make people feel at ease when they talk to you. You also don't judge people, instead encouraging them to be comfortable with who they are and what they're all about.
You thoroughly enjoy roleplaying and imagining varied situations and how to sex them up. Thinking on your feet is easy and you can work with whatever storyline your caller may want to indulge in.
You're not a prude and feel comfortable enough in your sexuality to openly explore it, and don't take issue with the weird and wonderful desires of others. You won't embarrass people for the requests that may make, understanding that everyone has personal preferences that they need an outlet through which to engage in.
You also understand that phone sex is not cheating - it's a way for people to express themselves, release desires that they're too afraid to share, or learn more about themselves because they haven't meet their special someone yet.
You aren't ashamed to make a living this way, because in all honesty, you shouldn't. You can be as secretive or as open with your family and friends about it as you would like to be. At the end of the day, it's a way to earn some extra money, and who doesn't want that?
"I don't think that everyone is cut out for this line of work, as it takes someone truly happy in themselves and knowledgeable enough in their abilities to make a good living this way. However, I think with the right support and training that us girls can really come out of our shells, and show those callers the sexy women we really are, boosted by our brilliant personalities." - Angie K - Adult Chat Line Operator
Our Clients
We know that our clients have a wide range of sex-based websites and chat lines to choose from, so we think it's a testament to our great service that we continually outperform our competitors in terms of service quality, variety of girls and price points. When our clients call up, they benefit from an easy-to-use service that gets them talking to the women of their dreams in a matter of seconds, aided by our pin system. Whether they want to talk to a spicy redhead, an older gal or a woman into knows her way around a whip, callers can choose who they desire and therefore give their own desires a reality in which to exist. Due to the talents of our operators, it's no wonder that our callers always call again, and highly recommend our services through their kind testimonials:
"Wow. Jessica certainly knows how to make a man feel young again. I can't remember the last time I felt so alive, so I'll certainly be calling her again. Doesn't mean I won't be calling some of you other cheeky girls up though haha."
"It felt so good to blow my load to a woman who really understands what I'm into. Just a fun way to exercise my fantasies really."
Want to know what our clients think of your abilities? Well, there's only one way to find out. Fill out one of our applications and let's get those callers hot under the collar for your voice.
Our Chat Line
To give you more insight into what it's like working on our chat line, we asked a selection of our operators to tell us about their experiences so far:
"Oh it's so much fun! I can't tell you how much joy I get out of delving into a man's mind and bringing his fantasies to life. I certainly talk to a lot of interesting guys - those who just want some good old-fashioned fun in the sack, those who have a specific situation or event in mind, and those who let me take the wheel and let me verbalise some of my desires for us to share. This job is certainly not boring." Yvonne P.
"The best chat line I've ever worked for. The pay is great, there are always callers waiting to speak to me and I feel trusted and supported by both my clients and Chat From Home themselves. When I first started, the training was really helpful and all my questions were answered without hesitation. I've never had any major issues with clients, but I feel quite confident that if I ever did, Chat From Home would be by my side. I love getting to roleplay and releasing my inner sexy woman. To be honest with you, I probably get as much out of this as my clients do." Jane K.